A mystery woman who told the FBI that she had been receiving threatening emails from Petraeus biographer Paula Broadwell is a social liaison to MacDill Air Force Base in Tampa, and a friend of the Holly and David Petraeus.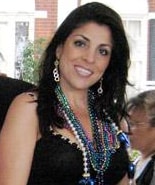 The woman, Jill Kelley, 37, is "a very well-known person of influence in the Tampa community," active in community organizations that support military causes, according to the friend. Tampa is the home of the military's Central Command, which Mr. Petraeus headed before serving in Afghanistan and then as C.I.A. director. It was during the Petraeuses' time in Tampa that they became friends with Ms. Kelley and her husband, Dr. Scott Kelley.
In a statement released Sunday night, Ms. Kelley and her husband did not address their involvement in the investigation that ultimately led to Mr. Petraeus's resignation on Friday from the C.I.A. after admitting that he had had an extramarital affair.
 The Kelleys said that they had been friends with Mr. Petraeus "and his family for over five years."
"We respect his and his family's privacy, and want the same for us and our three children," the family said in a statement.
In related news, Politico looks at Broadwell's access to classified information:
In a speech last month at the University of Denver, Broadwell said that the CIA at one point was holding prisoners at an annex near the consulate, and that the assault may have been an effort to free those prisoners. "I don't know if a lot of you heard this, but the CIA annex had actually—had taken a couple of Libyan militia members prisoner and they think that the attack on the consulate was an effort to try to get these prisoners back. So, that's still being vetted," she said, according to a video of the Denver event posted online and first reported by the Israeli media outlet Arutz Sheva.
Later in her remarks, Broadwell, said some of her information had come from a Fox News report, but it does not appear to have included that detail, according to Foreign Policy. The CIA has denied holding any prisoners at Benghazi.
Previously…
Report: Broadwell's Threatening Emails Sparked Petraeus' Downfall [tlrd]
Did CIA Ask FBI To Investigate Outsider David Petraeus? VIDEO [tlrd]