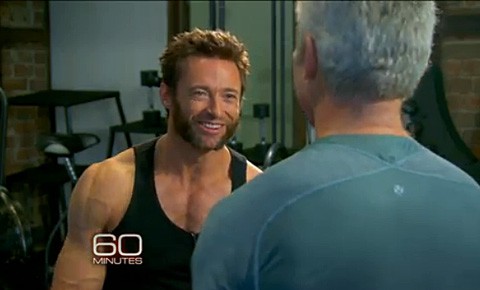 60 Minutes Scott Pelley did a long interview with Hugh Jackman on Sunday night in which they discussed Jackman's upcoming role in Les Miserables and the live singing that makes the production unique. Jackman also spoke about his family life, getting tearful when reflecting on his father's role in his life, aring for the family after their mother abandoned them at a young age:
"I can remember the morning she left, it's weird the things you pick up. I remember her being in a towel around her head and saying goodbye, must have been the way she said goodbye. As I went off to school, when I came back, there was no one there in the house. The next day there was a telegram from England, Mom was there. And then that was it. I don't think she thought for a second it would be forever. I think she thought it was, 'I just need to get away, and I'll come back.' Dad used to pray every night that Mom would come back."
In a bonus segment (see link below), Jackman spoke about his role in Wolverine, his shape-shifting physique, and the fact that he owns three different sets of suits to wear based on the role he's undertaking at the moment.
Watch, AFTER THE JUMP…
and here's the bonus segment about Jackman's physique.