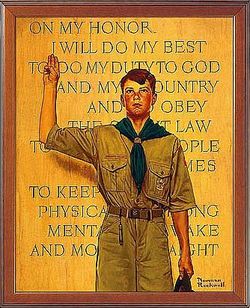 A three-judge panel of the 9th Circuit Court of Appeals today said that San Diego can continue offering the Boy Scouts of America lower-than-normal rents even though the BSA maintains its discriminatory policies of forbidding LGBT people and atheists, the Los Angeles Times reports.
"There is no evidence that the city's purpose in
leasing the subject properties to the Boy Scouts was to advance religion, and
there is abundant evidence that its purpose was to provide facilities and
services for youth activities," wrote Judge William C. Canby Jr. wrote in the panel's unanimous decision.
The lawsuit was brought by a lesbian couple and an atheist couple who claimed by giving the BSA such rents, San Diego was breaking state and national laws by renting the space for as low as zero. You'll recall that Philadelphia found itself in a similar position a few years ago.