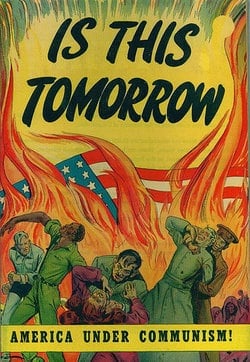 The Vatican really knows how to make good use of hyperbole, what with their constant warnings that LGBT equality will destroy society, devalues humanity and invites God's wrath.
The latest example of such histrionics can be found in the Vatican's semi-official newspaper, L'Osservatore Romano.
As the Washington Post points out, Vatican historian Lucetta Scaraffia penned a piece this week that claims those fighting for equality are simply charlatans who, like communists, want to dupe an adoring public into following them on a death march.
Historian Lucetta Scaraffia compared proponents of gay marriage, with their championing of "marriage equality," to 20th-century communists who wooed millions with their promise of perfect social and economical equality.

In her L'Osservatore Romano article, Scaraffia echoed and developed Benedict's argument [offends human truth]. To equate a traditional marriage between a man and a woman with a union between homosexuals amounts to a "negation of truth," which would undermine "one of the basic structures of human society, family," she wrote.

In the long run, she concluded, societies will end up paying "a very high price" for destroying family, "as it happened in the past with the attempts to create a complete social and economical equality."
Man, I never ever thought our opponents would figure out our plan, but there it is, in black and white. The jig is up…