Actor Scott Evans was arrested last night for attempting to make a purchase from an undercover cop, TMZ reports: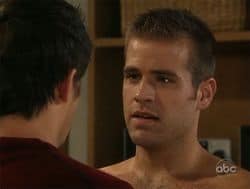 Law enforcement sources tell us Evans was arrested Tuesday evening when he tried to score narcotics from an LAPD officer posing as a dealer. Evans — who played Officer Oliver Fish on "One Life to Live" a few years back — was booked at 6:15PM for attempt to possess a controlled substance … a felony. He bailed out around 12:30AM.
It's unclear what drug Evans was trying to buy.
Evans reacted to the bust with a Facebook post early this morning: "Most ridiculous night of my life in LA so far. At least I made it a year before getting arrested."
Evans is the gay younger brother of actor Chris Evans.