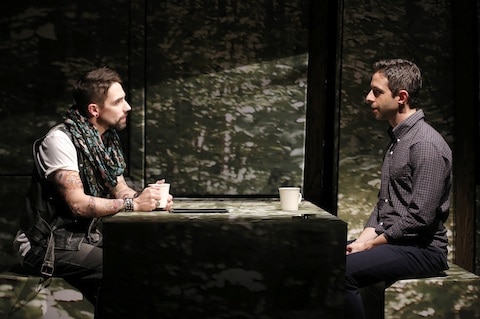 BY NAVEEN KUMAR
The latest
in Playwrights Horizons' solid line-up of new plays this season, Amy Herzog's
drama The Great God Pan opened on
Tuesday with its sights set on an ambitious array of hot-button issues.
Primarily an
exploration in memory and childhood trauma (namely sexual abuse), the play also
touches upon broader issues of mental health, eating disorder, and reproductive
rights—with  honorable mentions going out
to healthcare reform, wartime injustice, and the admirable struggles of
small-business owning.
Set in a gentrified Brooklyn neighborhood and liberal New Jersey college
town, from its outset Herzog's drama plays on the tension of revealing a dark
underbelly of sexual deviation from underneath a façade of polished well-to-do
American life. The whole company delivers grounded and honest performances from
a script that sometimes bites off more than can be meaningfully explored and digested
in under ninety minutes.
In its opening scene, two very different
thirty-something men face each other across a table. Keith Nobbs (Lombardi, Dog Sees God…) is Frank, piercings
and tattoos peeking out from underneath his tailored punk clothing. As Jamie, Jeremy
Strong (The Coward, Our House) is clean-cut, affluent and buttoned up. Frank is gay and a confessed
victim of sexual abuse, reaching out to childhood friends who might be able to
help build a case against his father.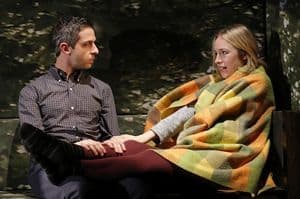 The story
unfolds as Jamie tries to remember whether he too may have been
molested, and grapples with the potential consequences of uncovering unwanted
truths. Mounting pressure to start a family with his longtime girlfriend Paige
(Sarah Goldberg), a dancer turned nutritionist, further sharpens the play's
focus on Jamie's psycho-sexual disposition. Strong's performance as a man
suddenly afloat and unanchored in his own mind is both tireless and aptly cerebral.
Stage favorites
Becky Ann Baker (Good People, All My Sons)
and Peter Friedman (Uncle Vanya, Ragtime)
play Jamie's liberal-darling parents, confronted with the painful possibility
of having overlooked their worst nightmare. Only Jamie and Frank's babysitter
Polly (an endearing Joyce Van Patten) is spared the same dilemma, as her
faculty for memory fades with age and dementia.
Director
Carolyn Cantor's production takes a conceptual approach to the material, with mostly
two-character scenes staged around Mark Wendland's shape-shifting Rubik's Cube set
printed to resemble  a northeastern
forest, though perhaps meant to suggest amorphous vestiges of lost memory. The
set, though accommodating and dynamic, restricts the play's action to a narrow front
portion of the stage in an already intimate space.
Packing this
much into a brief drama requires a kind of short-hand that can sometimes lead to characters that resonate like stereotypes. Though Herzog's play doesn't always appear
exempt from this danger, a remarkable cast of performers prevents the
possibility. 
(photos: joan marcus)
You can follow Naveen Kumar on Twitter @Mr_NaveenKumar.