Rep. Tim Scott (R-SC) has been chosen to join the U.S. Senate by Governor Nikki Haley as a replacement for outgoing Senator Jim DeMint who is leaving to join the Heritage Foundation.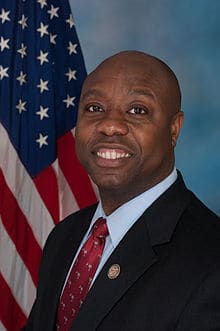 Right Wing Watch reports:
Scott was elected in the 2010 Tea Party wave after defeating Strom Thurmond's son in the GOP primary with backing from Mike Huckabee and Sarah Palin.  He's considered a rising star in the party — after the 2012 election he was elected to serve as the liaison to leadership for the rising sophomore class.  Like DeMint, he embraces both the Religious Right's anti-gay, anti-choice social agenda and the Tea Party's anti-government, anti-tax, anti-regulation agenda.  No wonder he's a Fox News favorite – and no wonder Fred Barnes, writing in the Weekly Standard, calls Scott an "ideal replacement" for DeMint.
Scott holds particular appeal for conservatives after this year's elections in which people of color overwhelmingly supported President Obama.  If appointed, Scott would become the only African American member of the U.S. Senate.  In 2010, he was one of 15 black conservative candidates backed by "Operation Black Storm," a project of Alan Keyes' Patriot PAC.  Only Scott and Allen West were elected. Scott shares West's politics but not his tendency to spout ridiculous rhetoric about President Obama being a Marxist tyrant. That may be one reason West will soon be a former member of Congress and Scott may soon be a U.S. Senator.
And David Badash notes that Scott is known as the "Chick-Fil-A Teavangelical" because it was there that he met a born-again Christian who shaped his life.