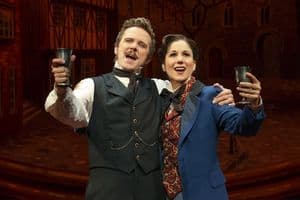 NK: If we consider this in relation to cross-dressing in Shakespeare, I
would think it's closer to the tradition of boys taking on women's roles in
early productions, rather than instances of female characters cross-dressing as
men within the plays themselves. 
SJB: Right.
NK: There's minimal winking at the audience, and your character in the
play within the play (Edwin Drood) isn't actually a woman in disguise, but
simply being played (and sung beautifully) by a female actor.
SJB: Exactly. And thank you for that by the way, thank you..
NK: How do you think this kind of cross-dressing plays into the plot of
Drood?
SJB: When I first met with Rupert Holmes, my first question was very
much what you asked. I said how far do I need to go?  Does the audience need to completely believe
that I am transformed into a man by lowering the timbre of my voice, by
changing my gait and my walk?  And he
said, of course we're going to attempt to get to certain places, but no.
The whole conceit of a woman playing a man's role in a music hall
pantomime is that the audience is completely aware that this is a woman. We're
not trying to do like a 'Crying Game' reveal at the end, where the whole
audience goes, 'Oh, my gosh I can't believe it's a woman!' They should
absolutely go along with the whole conceit of it.
He gave me the examples of Mary Martin or Cathy Rigby playing Peter Pan.
So, I found great resolve in that. My voice changes a bit and I have found
different physical mannerisms that indicate I'm playing a man. Of course, the
wardrobe adds greatly to that. I agree with you that it is a little more like
Shakespeare where the man is playing a woman, because you're right, we're not
winking and nodding the entire time.
I do make a couple little
physical movements, like there's a line for example that says that Rosa Bud and
my relationship has an unavoidable flatness, and I pat down there to let the
audience know, you know, quite frankly I don't have a dick. [Laughs] And the
audience giggles and we move past it and we get right back on to the plot
points.
As you also mentioned, Rupert wrote a score that doesn't let the singer
go to that lower timbre, he wrote in a soprano or mezzo-soprano and alto range
so there's no real way of getting around me or [the audience] recognizing that
I'm a woman throughout the entire play. I find it kind of thrilling that I go back
in and out and in and out, where I can say a line and it's in this lower range
and then I start to sing and I'm sitting on notes that are belting B's and
floating C's. So I kind of enjoy bouncing back and forth.
NK: You mentioned that your costumes by William Ivy Long play a big
role in your transformation, how so?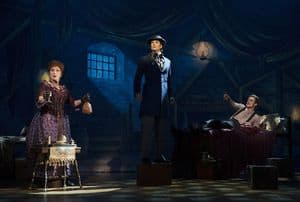 SJB: I love dressing like a man.  I gotta be very very honest, at first I was
looking at the women's costumes and they looked so beautiful and their figures
were amazing, and I was envious thinking they look so feminine and gorgeous.
And now all they're doing is complaining about their bad backs, their knees,
and here I am wearing comfortable slacks and flat shoes. So it's kinda great!
[William Ivy Long] had done 9 to
5, he had done Boy From Oz, so we
have this long term working relationship, but I was meeting him at a different costume
house because everything had to be tailored for a man. And I'm not talking tailored
for a man to flatter a woman's body, it was tailored to a man. So that sort of feminine style that I knew would be more
flattering on my body, I had to let that go and say, ok this isn't my
body.  My breasts are going to be
flattened down and my waist is not going to be accentuated, my hips have to be
completely covered up. So it was a really interesting sort of process where I
just thought, okay, you need to put all image aside and you need to be a boy,
you need to be Edwin Drood.
NK: How does cross-dressing compare to going green as Elphaba in Wicked?
SJB: [Laughs]  Well, it's
different challenges, I will tell you that cross-dressing is a hell of a lot
easier than going green, because once I take it off and I come home, is there
still that remnant on my pillow?  And on
my towel and in my ears and my nose?  After
I got done doing Elphaba, three weeks later I was still finding green paint
throughout my house.
NK: Are you a big fan of drag entertainment yourself?
SJB: I love it! [Laughs ] I
totally love how over the top it is, I love how committed these artists are.
You know it's so wonderful because a dear friend who I consider like a brother,
he called me a couple years ago after 9 to 5 and he's like, 'Girl, you have made it.' And I went, 'What do you mean?'
He said, 'Go to YouTube.'
Sure enough there was this glorious drag queen full-on lip syncing to 9 to 5's 'Get Out and Stay Out,' which
then segued into my 'Defying Gravity.' It made me laugh, but at the same time I
was like, 'I have. I have made it in
the musical theatre world. There is a drag queen lip syncing to my stuff!'  And I had this great sense of pride, like
'Woohoo! I'm somebody!' [Laughs]
[Watch RuPaul's Drag Race All
Star Mimi Imfurst's Stephanie J. Block mash-up here.]
The Mystery of Edwin Drood
continues performances at Roundabout Theatre Company's Studio 54 through March
10, 2013.
(photos: joan marcus)
You can follow Naveen Kumar on Twitter @Mr_NaveenKumar.