A mysterious trip out of state, according to the Associated Press, has caused Arizona Governor Jan Brewer to shirk her duties to certify election ballots, and nobody knows where she is: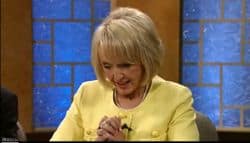 Brewer spokesman Matthew Benson said in a brief email to The Associated Press that Brewer was unavailable to participate in the general election canvass Monday morning because she was out of the state on official business.
"That is all I can disclose at this time," Benson added.
He later reiterated that during a brief phone interview during which he said he could not respond to several questions about Brewer's whereabouts.
Under the Arizona Constitution, Secretary of State Ken Bennett is the acting governor because Brewer is absent from the state. Bennett said his office late Friday received the customary notification of Brewer's absence. Bennett spokesman Matt Roberts said the notification sent by a Brewer scheduling aide said the governor would be gone Sunday morning to Saturday afternoon. Roberts said Bennett and his staff did not receive any additional information about Brewer's whereabouts.