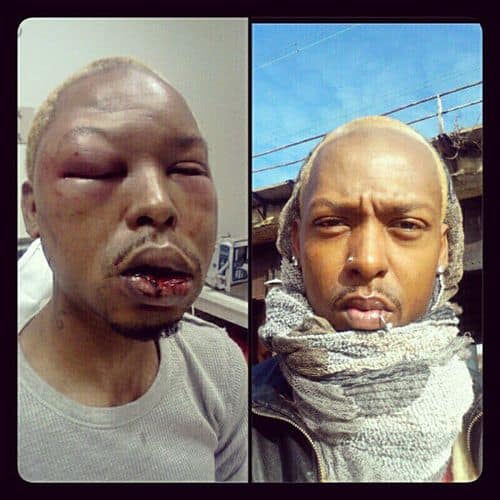 Kenni Shaw's Christmas ended on a horrifying note when five men jumped the 30-year old in his East Baltimore neighborhood. Though police have some suspects and leads, they're falling short of a motive. For Shaw, the answer is obvious: homophobia.
From The Baltimore Sun's report:
"I was pinned down by punches," Shaw said of the beating he received Christmas night, outside the East Baltimore liquor store he frequents near his home. "It was so hard that I felt my lip and side face swell up immediately. I was trying to talk to these guys, but they weren't letting me talk."

Instead, they were intent on beating him — simply out of hate, said Shaw, a 30-year-old gay man.

"I was just beaten in my face. Nothing was taken. No words were exchanged before the incident," he said. "So to me, I think it was a hate crime."
…
He knows he stands out in his Berea neighborhood. His dyed blond hair rests atop a wiry, 6-foot frame. His chosen career path, as a cosmetologist and hairstylist, puts him at odds with the tough mentality of other men in the neighborhood. He's noticed the tension that creates before, in offhand comments muttered by men he doesn't know but recognizes, about them not wanting "faggots living on the block," he said.
As the investigation continues, Shaw, who is recovering at his mother's house, says he intends to use his own experience to help spread the word about anti-gay violence.
"It makes me angry and upset, but at the same time, I am here and I made it through. I just want to stand and make sure I have a voice, so this doesn't happen again to a loved one or anyone," he said. "I'm glad I could be a spokesman, because a lot of people don't make it through situations like this."
And his mother's right there by his side: "As long as my son is willing to stand up, I'm going to back my son 100 percent."