Josh Pacheco, a high school junior from Fenton, Michigan, committed suicide on November 27. His parents, Lynnette and Michael Capeheart, believe anti-gay bullying is to blame MLive reports: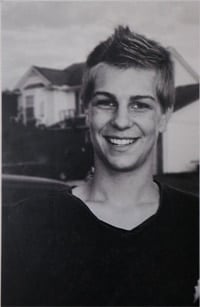 He told his mother he was gay just two months ago, but Capehart said she wasn't surprised and she said it made no difference to her. She loved her son just the same…
…Lynnette and stepfather Michael Capehart said they didn't know until recently that Pacheco was bullied.
Capehart said her first indication that there was a problem came after the homecoming dance on Oct. 6. She was out of town, so she called to see how the dance was. It was the only one he attended this fall.  Pacheco was upset and crying, but wouldn't tell her why, Capehart said.
After his death, she found out from students that her son had been pushed into lockers and teased at school. It wasn't surprising that he didn't tell many people about it, Lynnette Capehart said, because Pacheco never wanted to make anyone else upset.
Pacheco's depression worsened and his parents made an appointment for him to see a counselor, but it was apparently too late:
Around lunch time on Nov. 27, Michael Capehart saw Josh's Facebook status, quoting a line from Bilbo Baggins, a character in the "Lord of the Rings" movies: "I regret to announce that this is the end. I'm going now, I bid you all a very fond farewell. Goodbye."
It immediately worried Michael Capehart. Pacheco was home sick that day, so Capehart called his neighbor to check on Pacheco. He was found unresponsive in his truck, which had been running in the closed-up garage.
He left a note in the truck: "I'm sorry I wasn't able to be strong enough."
Pacheco's parents heard more tales of bullying after his death, but school officials say none was ever reported. School officials have accelerated plans for an anti-bullying hotline.