Susan Johnson, who received a two-day unpaid suspension for allowing a student to play Macklemore's equality anthem "Same Love" in class, has returned to school, and officials are speaking out after public outrage over the punishment, the Detroit News reports: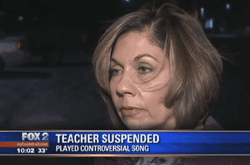 "I am willing to not uphold the suspension, but the violation of the district practice regarding web-based clips and our expectations for instructions previewing materials under this will remain in writing," he said in a statement.
The president of the South Lyon Education Association, which represents the district's teachers, said he supports members' efforts to foster tolerance and understanding "without equivocation"
"We also know that teachers need to follow administrative policies and, yet, we feel the district's initial response, a two-day unpaid suspension, to one of our members showing a video clip without submitting the required form, was excessive," said Jim Brennan. "After voicing our concerns, we are pleased that the district reconsidered, and chose to rescind the two-day unpaid suspension. We look forward to meeting with the district to come up with a final resolution."
Johnson received a statement of support from Macklemore following the incident.