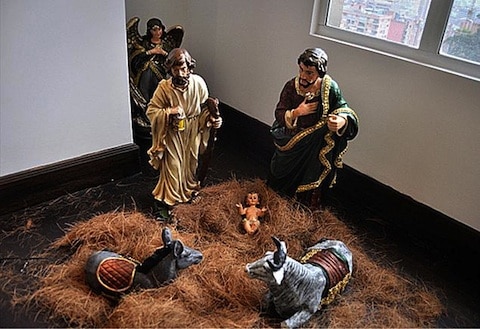 Andrés Vásquez and Felipe Cárdenas, a gay couple in Colombia, have reportedly stirred up a furor on social media after a photo of their nativity scene featuring two Josephs made its way on to the web, the NY Daily News reports:
Political analyst Vásquez and entrepreneur Felipe have been together for four years and were united by a civil union, the closest thing to marriage for homosexuals in Colombia, three months ago. The gay rights activists told the Diario Veloz website that they set up the scene, a picture of which was then posted on Facebook, in the hope that it would help in bringing about reform in the country's gay marriage laws.
A bill to legalize gay marriage is currently being looked at by the country's politicians and has passed the first of four debates. But it has been dubbed as "unconstitutional" by the nation's conservative lawmakers.
Vásquez told the website: 'We did it because we believe in Colombia. We have lived in different cities in the world and we prefer to return to our country.
 "We are beginning to build [a better country] through our new union," he said.