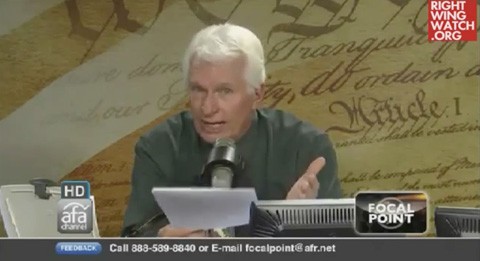 American Family Association radio host is excited about the announcement yesterday in which researchers said they may have identified epigenetic reasons for homosexuality, Right Wing Watch reports.
Writes Fischer:
The scientists in Koebler's article, in my view, are now resorting to genetic subterfuge and are coming dangerously close to saying that homosexuality is the result of a genetic defect, a genetic abnormality. In other words, read from one angle, these same scientists are saying that homosexuality is the result of a birth defect…
…In fact, I expect that if this theory gains some currency, it will not be long before we have legislation from the homoexual lobby prohibiting "sex-selection" abortions on any child carrying this epi-marker.
Watch him repeat the same sentiment on his radio show, AFTER THE JUMP…