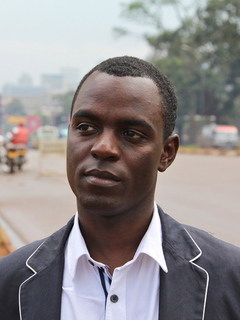 Radio host Michelangelo Signorile got a chance to speak with Ugandan gay activist Frank Mugisha about the on-going debate about the "kill the gays" bill there.
Despite rumors that the death penalty for gay people has been removed from the bill, Mugisha insists that's logistically impossible: "The committee said they have completed their report, and the committee cannot change the legislation. What they can do is, they can only make recommendations in their report. So right now we are talking about legislation that has the death penalty." And if that bill passes, Mugisha says he's as good as dead: "The fact that I've already said in Uganda that I'm gay, and that I'm an advocate for LGBT rights, that means I'm promoting homosexuality in Uganda, according to this bill. This legislation, if passed into law, it would automatically make me a serial offender and I would be sentenced to death."
According to Chris Johnson at the Washington Blade, however, a dispute over another, unrelated bill has stopped Parliamentary progress, meaning that the session may end for the season before the kill the gays bill can be passed. That would buy some time to fight it, but without a huge cultural shift, particularly one encouraged by Western donors, the bill will probably return down the road.
You can listen to audio of Signorile and Mugisha's chat at HuffPo.