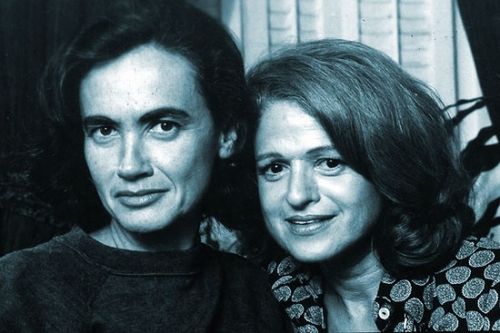 Filling in for Rachel Maddow last night, guest host Ezra Klein chatted with NYU constitutional law professor Kenji Yoshino about whether the Supreme Court, preparing to hear cases on the constitutionality of same-sex marriage bans, is swayed by public opinion. Will they consider in their decision the fact that more Americans than ever support marriage equality? And how does this case compare to Loving v. Virginia?
Meanwhile, over at The New Yorker, Richard Socarides also reflects on how far the nation has come on this nagging issue, and recalls the atmosphere at the White House after Bill Clinton signed the so-called Defense of Marriage Act that seems poised for deconstruction.
"I was on Bill Clinton's White House staff when he signed DOMA, and it was a solemn, grave atmosphere in the building that day—but it was what the Administration felt the country demanded," Socarides writes. "Clinton has since said that he regrets signing the law, and he has endorsed its repeal and fought for the rights of same-sex couples. I'm sure that no one will be more relieved than he if and when the law is declared unconstitutional."
The New York Times points out that Windsor v. United States, a Supreme Court decision on which could once and for all resolve the debate over the federal definition of marriage, will feature a rematch between pro-DOMA lawyer Paul D. Clement and Solicitor General Donald B. Verrilli Jr. The men faced off during this year's health care case, as well, and their reunion before the court will be almost exactly a year since that historic face-off.
Speaking of Windsor, the woman for whom the case is named, Edie Windsor (pictured, right, with late wife Thea Spyer), told the Times she's "thrilled" the Justices are considering her case. She also said she's confident marriage bans will be overturned at some point. "If it doesn't happen our year, it will happen in other years. I'm sure of that."
Asked by Huffington Post's Lila Shapiro how she finds the energy to keep up the fight, 83-year old Windsor says her tenacity comes from being the baby of her family. "I'm the youngest in my family and the littlest one always gets pushed around a lot, so I'm strong," she said.
Watch video of Klein and Yoshino's remarks on public opinion and the Supreme Court AFTER THE JUMP. And if you click here, you can watch USA Today's interview with Windsor, who says she sees her lawsuit as less of a legal process and more of a "joyous" event.