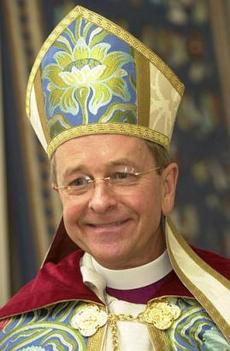 After 27 years with the Episcopal Dioscese in New Hampshire, openly gay Bishop Gene Robinson is set to officially retire on January 5th, bringing to the end a career that helped break homophobic barriers within the Anglican church here in the States.
And as he prepares himself for the next step in his life, Robinson says he's in awe of the rapid progress his religion has made in the nine years since he first became bishop.
"I'd been given this really remarkable opportunity and it would be
selfish of me not to be the best steward of that opportunity," he told the Associated Press.
"We went from my consecration, which set off this
international controversy, to nine years later seeing gay, lesbian and
transgender congregants welcome at all levels of the church, including
bishop."
The AP also reminds readers of one of Robinson's bravest acts: standing up against the international Anglican Communion for not inviting him to their once-a-decade Lambeth Conference in 2008:
He was publicly shunned by church elders, targeted with death threats
and says he struggled to strike a balance between being the "good
bishop" and the "gay bishop." In the end, he says, they became one and
the same.

He is a self-described "off-the-end-of-the-scale extrovert" who bounds
across stages and television studios, whether promoting causes or his
new book, God Believes in Love: Straight Talk About Gay Marriage.

Robinson said it pained him deeply to be excluded in 2008 from [the Lambeth]
gathering… He said it was the first time
since 1867 that a bishop had not been invited.

He traveled to England despite the snub to make his presence known and minister to anyone who wanted his counsel.
As for his relationship to New Hampshire, where he's lived since the mid-70s, Robinson said, "New Hampshire was the one place where I wasn't the gay bishop. I'm just the bishop. That's been terrific and kind of lifesaving in way."