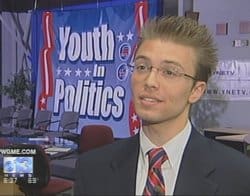 Congratulations to Justin Chenette, one of the newest members of Maine's State House. And, at the age of 21, he's also the nation's youngest openly gay lawmaker.
NECN provides more information:
"I think it's important that young people have a seat at the table and that's what I am trying to accomplish here," says Chenette, who won the November election by a huge margin.  

Surprisingly, Chenette went into the campaign with strong name recognition. As a high school student, he hosted a political show on public access television and if a candidate wanted to get elected in Saco, they found their way to his show.

…

There were skeptics [when he announced his candidacy], but Chenette wasn't deterred. "If you believe in something you have to go for it, you can't let other people tell you know when you believe yes, that has been a theme in anything I have taken on."
Chenette took a leave of absence from his position as an assistant producer at Maine Fox 23's Good Day morning show to run for office. Obviously that decision paid off.
AFTER THE JUMP, NECN's interview with Chenette.