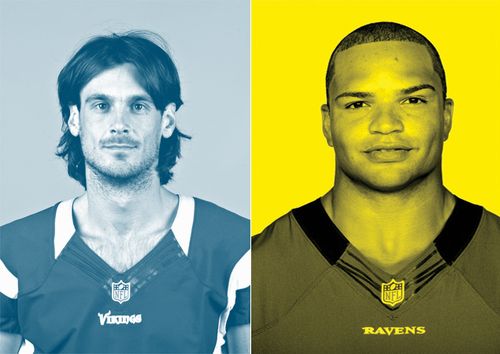 The Vikings punter and the Ravens linebacker offer GQ a joint interview about gay players in the NFL and the moment this year when Maryland lawmaker Emmett C. Burns came after Ayanbadejo's gay rights advocacy and got tackled by Kluwe:
Ayanbadejo: I was in the locker room when I heard about Chris's letter. I saw a line from it in a tweet: "They won't magically turn you into a lustful cockmonster." I was like, "Oh, my God, I need to focus all my attention on this. I'm going to lock myself in a room, and I'm gonna enjoy every moment." Over the next few days, I had conversations with five to ten of the [Ravens players] about what had happened. I asked them if they could play with a gay player. Everybody was like, "Yeah, I totally could." So that was pretty impressive. It shouldn't be impressive, but it was.
Kluwe: The first player to come out is going to face unprecedented media scrutiny. It'll be historic. It's gonna have to be someone tough enough to deal with the distractions. And hopefully he'll know that not just me and Brendon but other players support him.