Illinois Governor Pat Quinn, in a roundtable with reporters, expressed hope that the state's marriage equality bill would pass next month, the Chicago Tribune reports: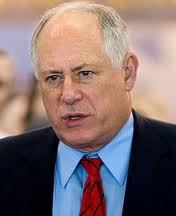 "I hope that bill goes forward," Quinn said when asked about the possibility of the measure being passed before new lawmakers are sworn in Jan. 9. "It's the House that probably the key arena at this time, and I think we'll see how the members look at that issue. They should study it carefully and vote their conscience."
Quinn's comments on same-sex marriage came during a roundtable with reporters at the Chicago office of Bloomberg News, where the governor reiterated the need for lawmakers to act on pension reform during the waning days of the legislative session. The timing is important, as lawmakers who aren't returning to office are more likely to vote in favor of controversial issues.
Writes Illinois LGBT rights group The Civil Rights Agenda (TCRA) in a statement:
"We are pleased that Governor Quinn has made equal marriage legislation one of his top priorities," stated Rick Garcia, Director of the Equal Marriage Illinois Project. "Although this is a priority, work still needs to be done to get the votes within the General Assembly. With that said, we have really seen a very strong shift in favorability throughout the state in both polling and in our work within communities. We have been working across Illinois, and even in conservative areas that you would think would be completely against same-sex marriage we have seen an uptick in support."