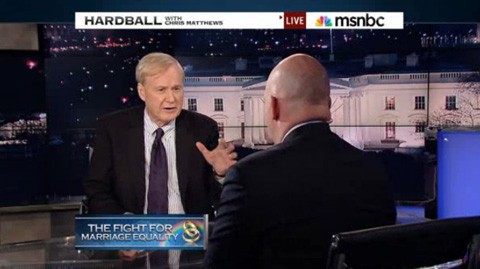 Chris Matthews confronted Log Cabin Republican Executive Director R. Clarke Cooper about the GOP's lagging support for same-sex marriage but had to pause his strategy for a moment after asking Cooper why he didn't oppose Karl Rove in 2004 when he was pushing anti-gay ballot measures.
Asked Matthews: "Where were you then? Did you fight Karl Rove?"
"I was actually fighting in Iraq," said Cooper. "I was deployed in '04."
"Touché. You win. You win the argument. That's a very good alibi."
Matthews then went on to ask Cooper what gay Republicans should do to work to change their platform.
See what Cooper has to say, AFTER THE JUMP…
Visit NBCNews.com for breaking news, world news, and news about the economy