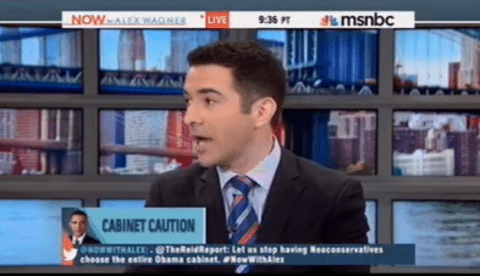 On MNSBC this morning, stringer host and The Nation columnist Ari Melber helmed a round table discussion on whether Chuck Hagel's 1998 comments about Ambassador James Hormel being "aggressively gay" should disqualify the former senator from becoming the next Defense Secretary. Or, as some on the panel believe, whether Hagel's comments are from a different era and that his potential nomination should rest instead on his most recent foreign policy, like opposing the surge in Iraq and sanctions against Iran.
Right-leaning Mediaite offers a summary:
"We're talking about someone who — objectionable comments aside or not, the Senate can consider it – someone who would be a change agent, and why won't the president fight for that," Melber asked his panel guests.

"His only truly objectionable comment was his comment on the gay community, which he made about one person who has forgiven him," said managing editor of The Grio, Joy Reid.

"And how long ago," laughed author Catherine Crier.

"Two years after Bill Clinton signed [DOMA]," replied New York Times reporter Nick Confessore. "It was a very different time in gay rights."

"Exactly," Reid agreed.
Mediaite's Noah Rothman makes clear what he thinks of this discussion's direction: it's just another example of MSNBC supporting President Obama.
Considering how emphatically the panel guests of Now attacked Mitt Romney back in May of this year for a poorly sourced report that claimed he and other students had forcefully cut the hair of a fellow classmate who turned out to be gay later in life, one could conclude that MSNBC's dismissal of Hagel's anti-gay statements are the benefits of his riding a White House trail balloon. After all, if 1998 was a "different time" in gay rights, 1965 is the gay rights equivalent of the pleistocene era.

But all sins are washed away in the glow of the Obama administration's approval. Even the bigoted comments of a former Republican office holder. It's a Christmas miracle.
"Poorly sourced"? Five of Romney's schoolyard peers corroborated the haircut story to the Washington Post; four of them identified themselves.
But, anyway, watch the video of Melber and company discussing Hagel's potential nomination AFTER THE JUMP.