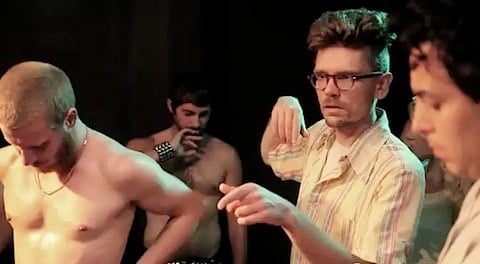 James Franco has collaborated with San Francisco filmmaker Travis Matthews on the forthcoming film Interior. Leather Bar inspired by William Friedkin's iconic film Cruising.
Watch the trailer, AFTER THE JUMP…
Write the filmmakers: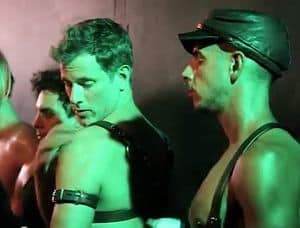 In order to avoid an X rating, 40 minutes of gay S&M footage was rumored to be cut and destroyed from the 1980 film, "Cruising." Inspired by the mythology of this controversial film, filmmakers James Franco and Travis Mathews collaborate to imagine their own lost footage.
Amid the backdrop of a frenzied film set, actor Val Lauren reluctantly agrees to take the lead in the film. Val is repeatedly forced to negotiate his boundaries during scenes on and "off camera," as unsimulated gay sex happens around him. The film itself is constructed as a play with boundaries remaining queer in subject and form. As much a film about filmmaking as it is about an exploration of sexual and creative freedom, "Interior. Leather Bar." defies easy categorization.
Says Franco of making the film:
"I wanted to be taken on a ride. I wanted to make a film that was as much about the experience as it was about making something. I wanted to go to a place of uncertainty, to set up parameters and then let the movie make itself. I wanted to explore the beauty of queerness, beautiful because it is counter to everything normal. As "straight" becomes the new "gay," I wanted to find places where the anti-normative still thrived. Travis became my partner and guide on a trip to the queer-side."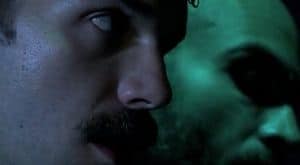 Adds Matthews:
One of the first things that James and I ever talked about was gay marriage. We shared a concern that the race toward equality was also a race of straightening out the queer kinks, of erasing subcultures in favor of assimilation. It's a conversation captured in the opening scene of the film, one that "helps inform choices" as I say. In a lot of ways this became the foundation of the film, this idea that we'd make a queer film about a gay subculture that was as much a celebration of as it was an agitator. Yes, there is gay sex in the film, but it's the slippery way in which boundaries and definitions are in constant flux that really make it a queer film for me.
We took the mythology of a still controversial film, "Cruising" (1980), and the rumored-to-be-lost 40 minutes from the original cut of that film, as an opening for this exploration. But our film is neither a remake nor a dedicated 40 minutes of re-imagined lost footage. It's so much more about our process of constructing this film and the mercurial ways in which the film plays with expectations and form. Is it real or is it fake, is it art or is it porn, and where exactly does one bleed into the other?
But as slippery as the film is, I was never interested in a "gotcha" moment that duped the audience. From the beginning I wanted to shine a light on the construction, to pull back the proverbial curtain between us and the audience. If people embraced the artifice, I reasoned, they'd start hunting for moments of authenticity. The actors are on a parallel journey constantly sorting out personal boundaries and sexual identities while trying to understand what it IS that we're actually filming. James and I were no different, sometimes reaching for the map but just as often choosing to go without it.
Watch the trailer, AFTER THE JUMP…