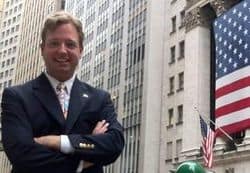 As this Chuck Hagel drama unfolds, LCR's board announced today that Gregory
T. Angelo, head of the group's New York chapter, will be LCR's interim
director as they look for someone to replace Clarke, who is stepping
down at the end of the year.
"Gregory's longstanding involvement with Log Cabin as leader of the New
York State chapter, and his demonstrated ability with grassroots
advocacy as head of our sister think tank, the Liberty Education Forum,
make him the clear choice to continue the significant strides made by
Clarke Cooper over the last three years," said National Board Chairman Peter Bertelsen in a press release.
And here's what Angelo had to say, from the press statement:
I am both humbled and thrilled to have the support of the Log Cabin
Republicans National Board of Directors and to follow in the footsteps
of the inimitable Clarke Cooper.

There has never
been a more exciting and historic time to be a gay Republican-with the
wind at our backs following four referendum victories for the freedom to
marry last November and the United States Supreme Court soon to rule on
marriage equality, 2013 could mark a turning point in the fight for
equal rights for all. It has never been more critical to advocate for
equality to Republicans, as Republicans.

As the Interim Executive
Director of this esteemed organization, I will do everything I can to
work for Republican victories that return the party to its roots of
freedom, fairness, and liberty for all.