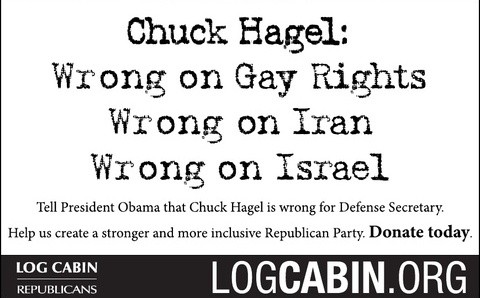 Some are wondering why the Log Cabin Republicans suddenly decided yesterday to run a full-page ad taking on potential Defense Secretary nominee Chuck Hagel.
After all, it was only two weeks ago that LCR's outgoing executive director, R. Clarke Cooper, told Andy Humm at Gay City News that despite the criticism of Hagel's 1998 comments about Ambassador James Hormel being "aggressively gay," his foreign policy and combat experience made him a good candidate for Leon Panetta's position.
"It is well
worth noting that Senator Hagel is a combat veteran who has hands-on
experience in the field. The battlefield is not just theory for him," Cooper said at the time. Though he was speaking for himself and not for LCR, it sounded like something of an endorsement from the gay Republican group. Yesterday's ad made clear that's not the case.
While Cooper would explain why his comments are so strikingly different, he told Humm yesterday that this ad "was not just about an old confirmation hearing."
"Chuck
Hagel's weak record on preventing nuclear proliferation in Iran, lack of
confidence in our ally Israel as well as an aggressive history against
the LGBT community is a negative combination for a secretary of defense
nominee," he said in an email. "While he may have recently apologized for his anti-gay comments
to save his possible nomination, Hagel cannot walk away from his
consistent record against economic sanctions to try to change the
behavior of the Islamist radical regime in Tehran."
Meanwhile, asked by BuzzFeed about Hormel's initial assessment of Hagel's apology, that it was done with political expediency, not healing, in mind, Cooper remarked, "Log Cabin Republicans concur with Ambassador Hormel's original assessment
of Chuck Hagel's current position on gay rights. We question the
sincerity of it."