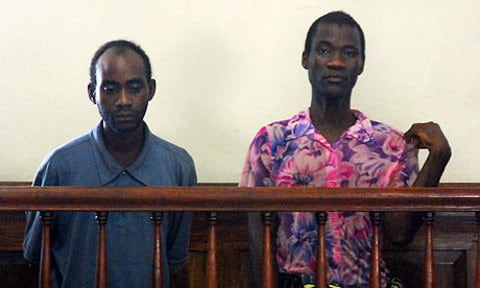 As Americans in Washington state celebrate same-sex marriage and UK lawmakers work toward equality there, hundreds of thousands of LGBT people still live in fear, many of them in African nations like Malawi, where Tiwonge Chimbalanga (pictured, right) and then-husband Steven Monjeza were sentenced in 2010 to 14 years in prison for getting married.
A massive, global outcry and the intervention of UN Secretary General Ban Ki-moon led late Malawian President Bingu wa Mutharika to pardon them.
Chimbalanga, no longer with Monjeza, is living as a woman in South Africa, and recently sat down with AFP for her first interview since her marriage started an international incident:
"I don't have any regrets, I didn't
do anything wrong," Chimbalanga, who identifies as a transgender woman
despite being tried as a gay man, told AFP.

…

I had mixed feelings because on
the one hand I felt it was a wonderful thing for me to do a normal, natural
thing like getting married, whilst on the other hand it was very painful,"
said Chimbalanga.

"I was beaten in prison. During the
trial the security guards ill-treated me. I was verbally abused and suffered
all sorts of inhumane treatments, I have scars from the beatings. Yet I felt
good that I was able to do what I wanted to do."
Chimbalanga says in Malawi there are two sets of human rights, one for the rich and one for the poor.
"I want everyone to have their
human rights and freedom to choose what they want to be and the only way to
achieve that is by coming out and claiming their rights," she said.
She also said she plans on marrying again in South Africa, "Even here in South Africa I want to get married and I am going to invite the reporters from Malawi to come and witness for themselves and to report the truth about it. I want the whole world to know because this is not the end."