A Colombian Senate committee has approved a marriage equality measure, advancing it for further consideration, On Top reports: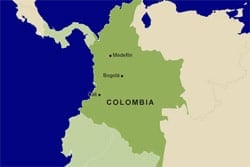 With a 10-5 vote, the First Committee (Comision Primera) has approved Senator Armando Benedetti's proposed measure. Benedetti's proposal originally sought to create civil unions for gay and lesbian couples. He has since altered the language to marriage. However, Benedetti's bill would not give married gay couples the right to adopt children.
Tuesday's vote is the first of four needed for the measure to become law.
"In this country homosexuals already have economic rights and social security, therefore it is time to move toward matrimony," Benedetti is quoted as saying by El Espectador.
In July 2011, Colombia's Constitutional Court ruled that the legislature must pass a same-sex marriage bill within two years or the courts will legalize it.