Fred Hochberg, the chair of the Import-Export Bank is under consideration for Commerce Secretary, an administration source tells the Washington Blade: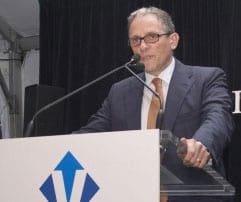 The official, who spoke on condition of anonymity, told the Washington Blade that Hochberg is under consideration for various positions within the administration, although commerce secretary is the role for which he's seen as most fit.
"What I've been told is Fred very well regarded, he's done a great job at the bank, and he's one of the folks that they are looking at carefully for Commerce," the official said.
But the official said Hochberg hasn't been involved as of Monday in direct talks with the White House about the position, nor could the official offer any timeline for when the administration would make an announcement.
Hochberg would be the first openly-LGBT cabinet member if appointed. LGBT representation in Obama's cabinet was named as a top priority by the Human Rights Campaign shortly after Obama won reelection.