Probably not the 3 am phone call Hillary was expecting.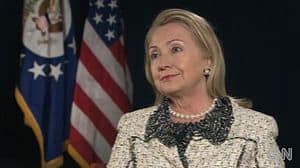 The NYT reports:
In a telephone call confirmed by three people, Mr. Bloomberg encouraged Mrs. Clinton to consider entering the 2013 mayor's race, trading international diplomacy for municipal management on the grandest scale.
She would, the mayor suggested, be a perfect fit.
Much about the call, which occurred some months ago, remains shrouded in mystery. But Mr. Bloomberg's overture to the former first lady highlights the level of his anxiety about the current crop of candidates, his eagerness to recruit a replacement who can rival his stature and his determination to become a kingmaker in the political arena he will soon exit.
And what of NYC City Council Speaker Christine Quinn, thought assured of Bloomberg's endorsement?
In many corners of the city's political world, Mr. Bloomberg's eventual endorsement of Ms. Quinn has been considered a foregone conclusion, barring the entry of a big-name candidate into the field.
But the mayor's conversation with Mrs. Clinton, even after he had begun to telegraph his allegiance to Ms. Quinn, suggests that, to a degree previously unknown, his thinking has been unsettled.
"He is looking for somebody he can feel comfortable handing the reins over to," said Hank Sheinkopf, a longtime New York City political operative who worked on Mr. Bloomberg's last campaign.
Previously…
NYT: Mayor Bloomberg to Endorse Christine Quinn as Successor [tlrd]