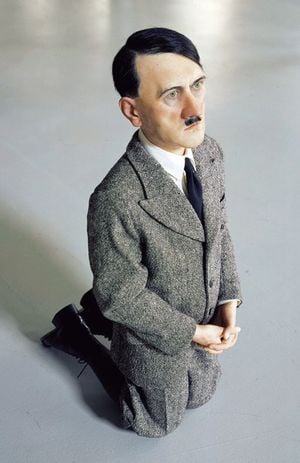 Italian artist Maurizio Cattelan's 'HIM,' a 2001 sculpture of Adolf Hitler praying on his knees, has shown all over the world, including New York City's Guggenheim and Venice's Palazzo Grassi, eliciting emotions everywhere it appears. And that's precisely the point.
Cattelan, also infamous for creating a sculpture of Pope John Paul II getting hit by a meteor, deceives the viewer into believing the small body, typically approached from the back, is a school boy.
When they approach and see the big reveal, they're jolted.
"When people see this piece, they react with gasps, tears, disbelief. The impact is stunning," collector and Holocaust survivor Stefan Edlis told The Economist in 2009. "Politics aside, that is how you judge art."
But should the likeness of the most vile anti-Semite be placed at the site of Poland's Warsaw Ghetto, home to so many Jewish people killed by Hitler's Nazi armies?
Vanessa Gera offers details:
The Warsaw ghetto was an area of the city which the Nazis sealed off
after they invaded Poland. They forced Jews to live in cramped, inhuman
conditions there as they awaited deportation to death camps. Many died
from hunger or disease or were shot by the Germans before they could be
transported to the camps.

The Hitler representation is
visible from a hole in a wooden gate across town on Prozna Street.
Viewers only see the back of the small figure praying in a courtyard.
Because of its small size, it appears to be a harmless schoolboy.

"Every criminal was once a tender, innocent and defenseless child," the center said in a commentary on the work.
HIM was installed there by Warsaw's Center for Contemporary Art last month, but growing outrage is gaining traction this week.
"As far as the Jews were concerned, Hitler's only 'prayer' was that they be wiped off the face of the earth," said Efraim Zuroff, director of US-based Jewish rights group The Simon Weisenthal Center's Israeli outpost. Zuroff described the installation as "a senseless provocation which insults the memory of the Nazis' Jewish victims."
CCA's director, Fabio Cavallucci, insists HIM isn't mean to insult the memory of the dead. Rather, it's a reminder of "hidden evil" everywhere.
"There is no intention from the side of the artist or the center to insult Jewish memory," he said. "It's an artwork that tries to speak about the situation of hidden evil everywhere."
Michael Shudrich, Poland's chief rabbi, supports HIM, and even wrote an introduction to the exhibition's catalogue. Art "force[s] us to face the evil of the world," he wrote, according to the AP. He also said, "I felt there could be educational value to it."
Do you agree?