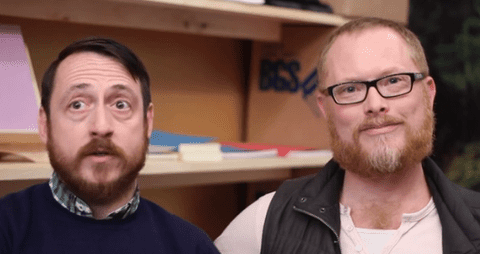 For a few weeks Greg Newton and Donnie Jochum have been running their queer bookstore The Bureau of General Services – Queer Division (BGSQD) as a pop-up shop at Strange Loop Gallery, but are hoping to find a permanent location in New York's Lower East Side. And they need your help to make their dream, bringing the Big Apple an exclusively queer book shop and community space, a space Manhattan currently lacks, come true.
"From the start, we wanted it to be a queer bookstore, not a gaybookstore. We are excited by the current proliferation of the term 'queer,'" they said in an interview with Vanishing New York. "'Queer" is an expansive term, one that continues to grow. Itis inclusive."
And from their press release:
It's hard to imagine, but Manhattan no longer has a single bookstore dedicated exclusively to queer people and topics. Since the closing of the landmark independent bookstores of Oscar Wilde and A Different Light, the borough has been without a bookstore specifically dedicated to serving the queer community.

Enter the Bureau of General Services – Queer Division, the now realized dream of co-owners Greg Newton and Donnie Jochum. The couple is creating a permanent bookstore and community space, complete with readings, events, a highly curated collection, and more.
With only a week left, the gentlemen have raised just over $3,100 of their $15,000 goal. If you want to help them out, visit their Lucky Ant fundraising page and for more information watch Newton and Jochum discuss their dream AFTER THE JUMP.