As of this writing, almost 50,000 people have signed a petition calling on the White House to designate Westboro Baptist a hate group.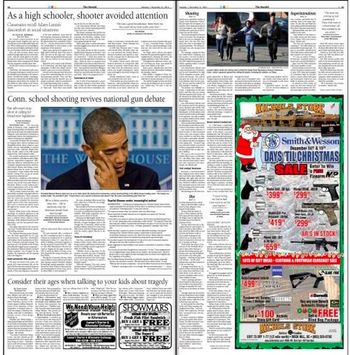 South Carolina's Rock Hill Herald
apologized after running an advertisement for guns next to a news story
about the shooting. "Advertisements are usually placed days before the
newspaper lands on your doorstep. In this case, the advertisement in
question was placed Thursday morning," wrote editor Paul Osmundson. "But
we at The Herald should have recognized the unfortunate juxtaposition of the advertisement with stories and a photograph about gun violence."

In the wake of the Connecticut shooting, Fox is airing repeats of Family
Guy and American Dad tonight instead of new episodes that contain "possibly sensitive material."

From author Liza Long's piece on raising and caring for a mentally ill and potentially dangerous son, "I Am Adam Lanza's Mother": "No one wants to send a 13-year-old genius who loves Harry Potter and his
snuggle animal collection to jail But our society, with its stigma on
mental illness and its broken healthcare system, does not provide us
with other options. Then another tortured soul shoots up a fast food
restaurant. A mall. A kindergarten classroom. And we wring our hands and
say, 'Something must be done.'"

Sen. Dianne Feinstein says she plans to introduce an assault weapons ban next month. "It will ban the sale, the transfer, the importation, and the possession.
Not retroactively, but prospectively. It will ban the same for big
clips, drums or strips of more than 10 bullets," she said. "There will
be a bill."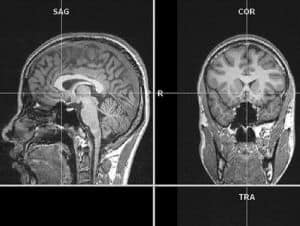 The U.S. Army's experiments in chemistry: "In 1953, a catastrophic amount of EA 1298—a version of mescaline—had
been injected into a patient named Harold Blauer, who had a violent
reaction: shock, coma, and then death. Blauer, a professional tennis
player, had been admitted to the institute for depression, and was never
told that he was part of a military experiment."

Openly gay Rep. Barney Frank on his forthcoming retirement: "I'm hoping to get paid well to do what I do now for nothing."

Latest polls show Indiana voters split on legalizing gay marriage:
"The survey taken for the Bowen Center for Public Affairs at Ball State
University and WISH-TV found that 45 percent of those surveyed
supported allowing gay people to wed, while 45 percent opposed the idea.
Ten percent had no opinion."

Homeland actor Mandy Patinkin was very excited to hear that Fox New York morning show host Dave Price's wife was going into labor.

Kelly Clarkson announced today via Twitter that she and her manager's son, Brandon Blackstock, are getting married.

Can the Spice Girls really exist without Victoria Beckham?

Martin Short knows all the right people in his SNL monologue.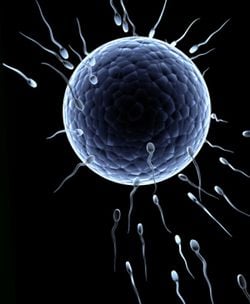 For sperm, it's not just the head that matters,
but length too: "Most fertility research has focused on the size of
sperm and the size of the swimmers' heads, but a new study suggests the
variability in the length of sperm also may put a wrench in successful
reproduction. Like a factory churning out products of inconsistent
sizes, ejaculates with varying sperm lengths can be a problem, said
James Mossman of Brown University in Rhode Island."

British conservatives upset with Prime Minister David Cameron's push for marriage equality appear to be turning toward anti-EU political party UKIP. From Reuters: "UKIP, which wants Britain to exit the EU, has pledged to exploit Conservative divisions over the issue and polls showed its support reaching new highs, putting it in third place ahead of Cameron's junior coalition partners the Liberal Democrats."

RIP: "Gustavo Archilla, whose marriage in Canada in 2003 after almost six decades of a quiet and committed relationship inspired supporters of same-sex marriage, died on Nov. 27 on Marco Island, Fla., where he lived. He was 96."

Finally, an inflatable bee beard.