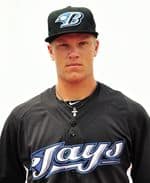 Newly-acquired New York Mets pitcher Noah Syndergaard, whose anti-gay tweet was revealed by the New York Daily News, apologized Tuesday at a press conference call organized by the Mets to introduce him.
Said Syndergaard:
"I had a little mishap on Twitter about a month ago, and it was just brought to my attention this morning. I'd just like to apologize for anything that was said. A buddy and I were having a little conversation. I had a poor attempt at humor and an even worse attempt at using a term I shouldn't have used. I hope I didn't offend anybody. I'm really sorry my first introduction to being a New York Met had to be like this."
No word yet from MLB or the Mets on discipline for the pitcher.