President Obama backs Senator Dianne Feinstein's effort to ban assault weapons, the White House said today: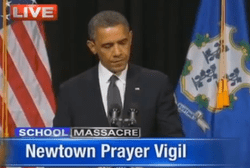 White House spokesman Jay Carney offered some of the first specifics on how Obama intends to make good on his promise to address gun violence in the aftermath of a shooting rampage at a Connecticut elementary school that killed 26 people, including 20 children.
"It's clear that as a nation we haven't done enough to address the scourge of gun violence," Carney told reporters. He reiterated that Obama "wants to move in the coming weeks."