In a private letter to Lance Price, executive director of the Kaleidoscope Trust, an NGO based in the UK which campaigns globally for gay/LGBT rights and diversity, Trinidad and Tobago Prime Minister Kamla Persad-Bissessar promised to end discrimination against LGBT people in national policy, the Guardian reports: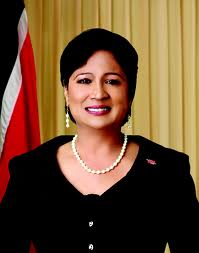 The PM's letter to Price was in response to one he wrote to her complaining about T&T's immigration law and the Sexual Offences Act, which he said discriminated against homosexuals.
 
Price met Persad-Bissessar when he visited T&T for an International Press Institute (IPI) conference in June, at which the PM spoke. He wrote to her in July expressing concern about the stigmatisation of homosexuality in T&T.
 
Section 8 of the Immigration Act bars entry to homosexuals, describing them as a "prohibited class."
 
Earlier this month, Aids-Free World, an advocacy NGO, challenged the controversial immigration law in court.
Colin Robinson, head of Coalition Advocating for the Inclusion of Sexual Orientation, said the promises made by the PM in her letter are unprecedented:
Robinson added that the PM's words in her letter to Price showed brave leadership. He said: "The kind of leadership we have been yearning for from Caribbean politicians… this is the kind of leadership that would make her a legacy."
 
Robinson said he did not think a male politician could have done that because of masculinity and other issues. "It's something about a woman that makes it possible, her maternal instinct, her style of leadership,"
 
Told bringing gay-rights legislation might cause opposition to Persad-Bissessar, Robinson said: "I don't know when advocating human rights has marred the leadership of historic leaders. I hope she will be remembered as a brave Caribbean prime minister who acted for justice."