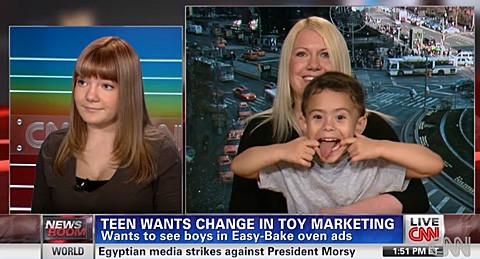 McKenna Pope is a very grown-up eighth grader with a worthy goal. She wants Hasbro to feature boys in the packaging of its Easy Bake Oven. Writes Pope in a petition on Change.org:
My little brother has always loved cooking. Being in the kitchen is his favorite out of school activity, and he yearns to have the opportunity to cook on his own, or at least with limited help.
Imagine my surprise when I walked into his room to find him "cooking" tortillas by placing them on top of his lamp's light bulb! Obviously, this is not a very safe way for him to be a chef, so when he asked Santa for his very own Easy-Bake Ultimate Oven, produced by the Hasbro company, for me to help him be the cook he's always wanted to be, my parents and I were immediately convinced it was the truly perfect present.
However, we soon found it quite appalling that boys are not featured in  packaging or promotional materials for Easy Bake Ovens — this toy my brother's always dreamed about. And the oven comes in gender-specific hues: purple and pink.
I feel that this sends a clear message: women cook, men work.
I have always been adamantly against anything that promotes specific roles in society for men and women, and having grown up with toys produced by the Hasbro corporation, it truly saddens me that such a successful business would resort to conforming to society's views on what boys do and what girls do.
I want my brother to know that it's not "wrong" for him to want to be a chef, that it's okay to go against what society believes to be appropriate. There are, as a matter of fact, a multitude of very talented and successful male culinary geniuses, i.e. Emeril, Gordon Ramsey, etc. Unfortunately, Hasbro has made going against the societal norm that girls are the ones in the kitchen even more difficult.
CNN's Ashleigh Banfield interviewed Pope as well as her brother and mom.
Watch their interview, AFTER THE JUMP…
McKenna's video for her petition: