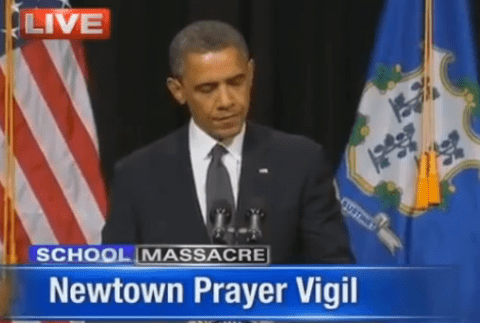 President Obama flew to Newtown, Connecticut, today to appear at a vigil behind held for the victims of Friday's elementary school shooting.
"I am very mindful that words cannot match the depths of your sorrow, but whatever measure of comfort we can provide, we will provide," said Obama in the teary speech. All across this land of ours, we have wept with you… Newtown, you are not alone."
This is the fourth trip President Obama has taken to the site of a mass shooting, something not lost on the commander-in-chief, who implored the country, "We can do better than this."
The most emotional and visibly difficult moment came toward the end of the president's 17-minute speech, when he read the names of the 20 children who were shot and killed. It's powerful.
Watch President Obama console and mourn with Newtown, AFTER THE JUMP.