BY DAVID MIXNER

Over the holidays while attending a dinner party, I met a young guest about 25-years-old. As on most occasions, the dinner table conversation consisted of the enormous progress around marriage equality. The young man passionately spoke up and said, "You know if the Supreme Court rules that marriage is a constitutional right then most of our fight is over."
My head jerked up at this statement (and while there will still be much more to do) it was like hearing someone proclaim, "the war is over!"
Couldn't quite shake his statement out of my head because for me 'the war' has raged brutally for my 66 years of life.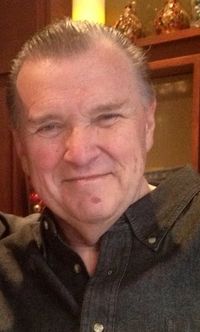 In my youth, the stories were of police raids on gay bars, community leaders being disgraced and arrested in parks, LGBT political events broken up by police and families forcing their children to have lobotomies to cure them of being gay. My friend Freddy Davies committed suicide at 16 and my Dad said his family was better off because of it.
It was a time of shame, fear and self hatred. Every institution in our lives — from family to church — thought we were so bad they urged us to lie to them and stay in the closet. Forget the virtue of truth and honesty that was so revered in America. They begged us to keep our shameful secret to ourselves and not visit it on the community or family.
Then, as some of us slowly began to come out in the 1970's and form new community organizations to give us safe places to express ourselves, we found that because of it many of us lost our families, jobs and place in the community. Anita Bryant launched her hate campaign on the ballots in 1977 and 1978 which was stopped by the defeat of Proposition Six (the Briggs Initiative) in California.
When I came out in 1976 people in the Democratic Party mostly abandoned me. Candidates to whom I had contributed returned checks and refused to allow me to endorse them. I helped form the first political PAC called MECLA and we raised a grand total of $40,000 in the first year. When I would ask for a check for the PAC often it would be for $99 because anything $100 or above would have to be reported. Nevertheless, the late 1970's was for the community and me a time of great progress.
The AIDS epidemic stopped us in our tracks.
In the early years, society completed abandoned us and we died in the tens of thousands. Few politicians (Ted Kennedy, Phil Burton, Henry Waxman, etc) spoke up and fought by our side. ACT-UP and new national organizations were formed to fight back and attempt to save our gay brothers' lives. Personally, it was a time of horror as over 300 friends died and I gave at least 90 eulogies. I'd go to funerals of young men on Saturday morning or afternoon and then dancing Saturday night. A good part of my middle age was totally dominated by HIV/AIDS. It was a darkness that is still hard for me to discuss or think about even decades later.
In 1988, Randy Klose, Duke Comegys, David Wexler and I decided we had to elect a Democrat for President. With our friends' contacts and our own, we figured we could bundle over a million dollars for Governor Dukakis which would be a historical first for the LGBT community. We were told by his staff point-blank that they could not accept such a large amount of LGBT-identified money and they turned the donation down.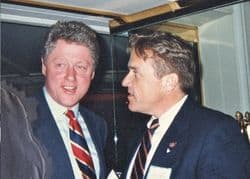 In 1992, the LGBT delegates had to threaten a public walkout at the Convention just to force Bill Clinton to include the word 'gay' in his acceptance speech. It took every political chip we had to have him speak at the Hollywood Palace to an all LGBT audience and the staff opposed it to the end. Ironically, it was a turning point for him. His "I Have A Vision" Speech" generated thousands of volunteers and millions of dollars from the community for his campaign.
While in the end 1992 was an incredible political year for LGBT Americans, we would still face great obstacles even from a LGBT-friendly President. While he made a number of key appointments, President Clinton was also responsible for two of the most horrible pieces of legislation directed at the LGBT community. His team was the architect of "Don't Ask, Don't Tell' (DADT) which ended up destroying over 14,000 careers. He followed that with the Defense of Marriage Act (DOMA) which we are currently fighting in the courts and is a major barrier to marriage equality today.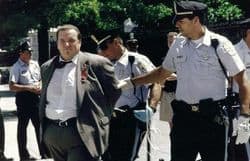 Outraged over DADT, a group of us were arrested in front of the White House to protest the coming horror of the policy. While the President received a stunning amount of support from the community, those arrested were shunned by the Democratic Party. In fact, I was personally attacked by many for getting arrested. However, as the Quakers say, we have to give witness to great evil even if that evil is supported by popular opinion.
Even in the past 10 years, some top level LGBT activists were urging candidates to exercise caution on supporting marriage equality. Some of our national organizations and many leaders, into 2012, were urging President Obama to not take a stance on same-sex marriage until after the election. It was very frustrating to be fighting the battle for marriage equality and to hear other leaders urge him to take a pass.
During this time I personally realized that the community could never make progress if we gave our allies permission to not support us. Even if our friends became uncomfortable for advocating for full equality, it was not our job to make them comfortable as a criteria for our freedom. A true representative can never advocate partial freedom, separate but equal, or counsel patience in the face of horrific oppression.
Over a lifetime, I have lived in fear as a gay man, survived a horror and darkness that I never dreamed could exist, found the strength to stand with my community, learned not to live to please others, and witnessed great progress.
Who knows? 'The war' might soon be over!
What I do know personally is we have already won in so many ways. There are LGBT dances in high school and college, we are getting married, we are creating families, there are weddings at West Point, soldiers serving their country openly, fewer people dying of AIDS, and our young will be mostly be spared a tough, bitter and at times brutal journey that had to be taken to get to this moment in our history.
That is a good reason for me to celebrate and say to you all with deep passion, tears and joy – Happy New Year.
You can visit David Mixner online at his blog at DavidMixner.com.