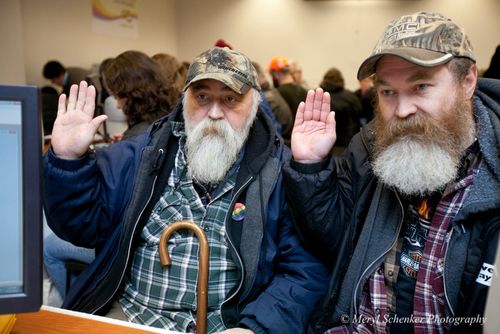 You've probably seen this picture already. It's of 56-year old Larry Duncan and 48-year old Randy Shepherd receiving their marriage license in Washington State this morning.
Photographer Meryl Shenker snapped it and, as the photo became an internet sensation, told Seattle PI she focused on the men because she wanted to challenge stereotypes. She did her job well, and we should all be grateful.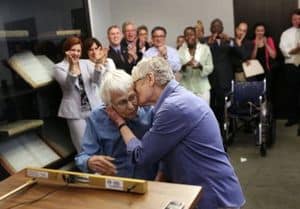 It seems each new state that legalizes marriage produces its own poster couple. For example Phyllis Siegel and Connie Kopelov, the elderly lesbian couple pictured to the right, became famous for their marriage here in the Empire State, and were even asked to be grand marshals at Gay Pride.
And you know what, it's great that Siegel and Kopelov and Shepherd and Duncan become viral images: not only does it show that gays and lesbians are not, as much as Queer Eye tainted popular opinion, all power lesbians or done-up gays, but that we come in every shade, color, size and age.
More importantly, these couples show how long some people are willing to wait for legal recognition of their love. Duncan and Shepherd have been together for eleven years, a short amount of time when compared to Siegel and Kopelov's 23, but still an impressive period to bide your time for marital respect and if you ask me they're in a perfect position to become figureheads for same-sex couples marrying in Washington State, and everywhere else, for that matter.