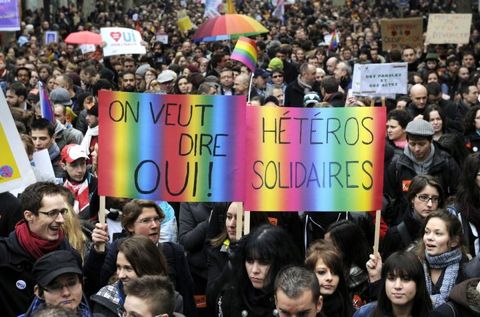 Thousands of people took to Paris' streets to show their support for marriage equality and gay adoptions today.
Police estimate about 60,000 people were there, smaller than the 100,000 who recently marched to oppose equality, but organizers put the number of people at today's demonstration at about 150,000. Among them was Paris' gay mayor, Bertrand Delanoe.
From Reuters' report:
Marching along to drumbeats and jazz music, the protesters waved rainbow flags and held up signs saying "liberty, equality, dignity" and "hate is not a family value." One sign announced "wedding gifts for gays will boost the economy."

Among their chants was "Oui, oui, oui" (yes, yes, yes) in support of same-sex marriage, adoption rights for gay couples and access to assisted procreation methods such as artificial insemination.

The Socialist government's bill would legalize gay marriage and adoption, but not assisted procreation.
I've included some video of the event and interviews AFTER THE JUMP, but they're in French. Still, they're worth a watch..