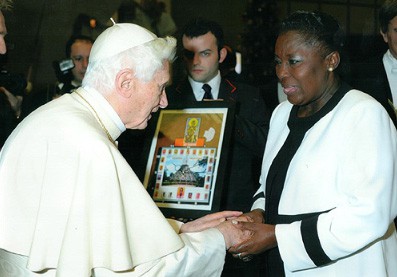 Ugandan parliamentary speaker, who has said she wants to pass the "kill the gays" bill as a "Christmas gift" to Ugandans, received a blessing from the Pope at the Vatican.
Said Kadaga to Reuters last month: "Ugandans want that law as a Christmas gift. They have asked for it and we'll give them that gift."
Uganda's New Vision reports:
Kadaga who led a delegation of Ugandan legislators to the Vatican expressed delight at meeting the Pope and visiting St Peter's Basilicca.
"I think this is a moment that cannot be repeated. We have been reading about him, hearing stories about St.Peter's Basilica but now we are here physically. I think it is something that I will remember all my life. It's a very great moment and I thank God for this opportunity," she said minutes after meeting the Pope.
Ironically, a Ugandan delegation had traveled to Rome for the 7th Consultative Assembly of Parliamentarians for the International Criminal Court and the World Parliamentary Conference on Human Rights.
The Vatican mass they attended was the one in which the Pope sent his first tweet.