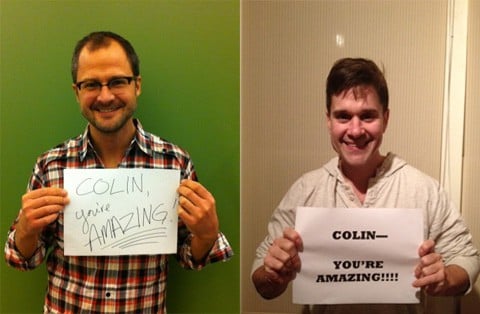 Amazing Race winners The Beekman Boys says they've received more than 8,000 letters of congratulations from various fans. One of them happened to be from a woman who says her son Colin is gay and bullied:
"I'm sure you guys are way too busy to read this, but I want you to know how inspirational you two are to my 12 year old son. He is gay and is dealing with bullying and harassment in middle school. It's so hard to see him going through this, and sometimes the "It Gets Better" message is lost on a 12 year old who feels that middle school will never end…We cheered you on every Sunday night and agonized every time you had difficulties. My son was so incredibly thrilled when you two won last night (as was I!). Thank you for helping him see that not only DOES it get better, it gets AMAZING."
In response, Brent and Josh asked each of the teams on this year's show to send a message of support to Colin, and all of them did so.
Check a few more of them out, on their website.
And, unrelated, but just for fun, I've posted The Fabulous Beekman Boys blooper reel from their show, which they recently posted to YouTube. Check it out, AFTER THE JUMP…