Actress Charlotte Rae (The Facts of Life) wrote a memoir called "The Facts of My Life" that she's shopping around, Page Six reports: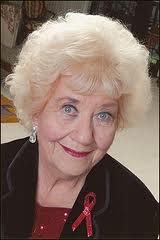 The book describes how she discovered her husband of 25 years, composer John Strauss, was gay. Rae and Strauss, who won a Grammy for the soundtrack to "Amadeus," had just moved into a new house in LA when he confessed he was gay and had been unfaithful. "First came the shock of what he had done behind my back, then the sting of being deceived for years," she writes. "All I could feel was the betrayal and, worse than that, my shame." The pair, married in 1950, had two kids and divorced in 1975 after Strauss came out to her. Strauss died in 2011. "John's secret confirmed my feelings of inferiority," Rae writes. "That I was less than a woman . . . That I didn't deserve to be loved and valued."
In February 2011, Rae expressed support when one of her Facts of Life castmastes, Geri Jewell, came out of the closet, saying,  "Her coming out as a lesbian, well, it's a healthy time to come out, everybody is very open about it, which is wonderful, absolutely wonderful…I just wish her more and more good health and prosperity. She obviously knows how to love. We love her."