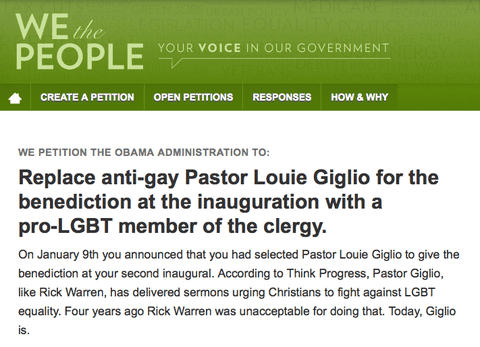 President Obama and his inauguration committee are going to have some added stress over the next few days: a growing movement, including a We the People petition on the White House's official page, to replace Louie Giglio as the inauguration preacher.
Giglio, much like the 2008 inauguration preacher, Rick Warren, has a history of preaching hate against homophobia. "We must reach out and we must aggressively move toward the homosexual community," he said in a 1990s era speech called "In Search of a Standard – Christian Response to Homosexuality."
The We The People petition asks the president to replace Giglio with an LGBT friendly clergy person. 
Meanwhile, Chris Johnson at the Washington Blade asked press secretary Jay Carney about Giglio yesterday, but Carney wouldn't comment.
"I haven't seen that report," Carney said of the ThinkProgress post that revealed Giglio's past comments. "I would refer you to the inaugural committee. I haven't seen the report." By now Carney and the rest of the team have seen the report, and soon there will be no excuse for official silence.