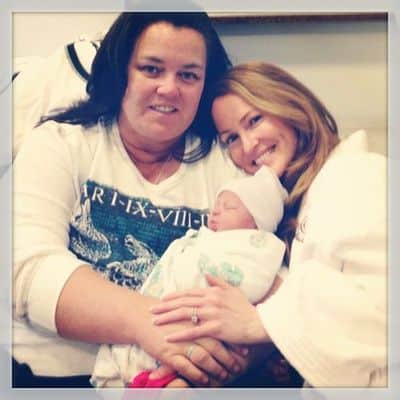 PHOTO OF THE DAY: Rosie O'Donnell and her wife welcome a baby girl!
BY SAM GREISMAN
A look back at today's top stories
GAY ISSUES
Finally doing some clear good for gay people, or at least attempting to, the Log Cabin Republicans took out a full-page ad in today's The Hill urging the GOP to support marriage equality and oppose DOMA. Electoral wizard Nate Silver recently did an "Ask Me Anything" on Reddit and one user had an interesting question about how Silver's sexuality affects his ability to be "unbiased". With his second Inauguration less than two weeks away, President Obama has selected openly gay Latino poet Richard Blanco to read an original work at the ceremony. 
Obama may
have gotten a gay poet to recite a poem at his Inauguration but the
Pastor who will be doing the actual swearing in is a decided anti-gay bigot.
Gay rights advocate and Vikings punter Chris Kluwe sat down with Stephen Colbert last night to talk about a variety of topics including "lustful cockmonsters" and the gayness of football. Also Crate & Barrel features a gay couple in their latest catalog!
**
WINGNUTTERY
Showing his unending talent for intelligent political discourse, Rush Limbaugh spent a large portion of his show on Monday ruminating on a fabricated link between pedophilia and gay marriage. Along the same line of crazy, Pastor John Hagee recently likened gay marriage to "two disturbed people playing house". 
ENTERTAINMENT
This just in: Anderson Cooper knows how to keep the fruits in line. Willow Smith shows her grown-up side by covering a Radiohead song and Matt Bomer does what we love best and takes his shirt off. 
**
VIDEO OF THE DAY
If this video of giant squid doesn't freak you out then you are much tougher than I am.