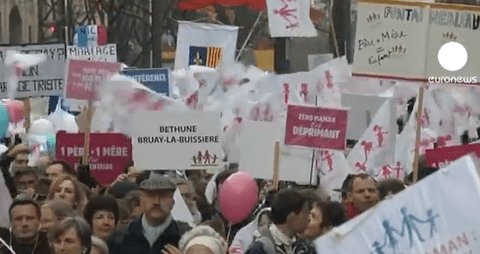 Police estimate about 120,000 people took to Paris' streets today to protest marriage equality there. Organizers, mostly Catholics or Muslims who believe in "traditional marriage" and secular activists who oppose same-sex couples raising children, claim about 500,000 people turned out.
Either way, it was a massive rally, just the latest indication that the Socialist government led by President François Hollande faces stiff, sustained opposition to their plan to expand marriage laws to include same-sex couples.
The BBC has a report from the action:
Tens of thousands of protesters have taken to the streets of Paris over plans to give gay couples in France the right to marry and adopt children.

Three big marches were converging on the Champs de Mars, next to the Eiffel Tower.

…

The "Demo for all" event was being led by a charismatic comedian known as Frigide Barjot, who tweeted that the "crowd is immense" and told French TV that gay marriage "makes no sense" because a child should be born to a man and woman.

Centre-right UMP President Jean-Francois Cope said the rally would be a "test" for the president because there were "clearly millions of French people who are probably concerned by this reform".

The far-right National Front is also opposed to the change, although its leader Marine Le Pen stayed away from the march, arguing the issue was a diversion by politicians from France's real problems.

Despite the support of the Church and political right, the organizers are keen to stress their movement is non-political and non-religious, and in no way directed against homosexuals, BBC Paris correspondent Hugh Schofield reports.
I've included a video report from today's protest AFTER THE JUMP.