Former Congressman Barney Frank, who made known his desire to be picked as interim U.S. Senator from Massachusetts replacing John Kerry, was passed over by Governor Deval Patrick in favor of Patrick's former chief of staff William "Mo" Cowan.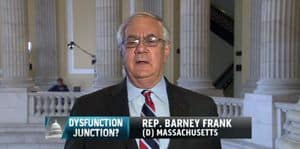 Frank told the Washington Blade he had concerns about the process:
"But let me tell you, there was one thing that sort of troubled me in the discussion about it — nobody was particularly quoted; they attributed something to governor's office and others — was that the governor would want to appoint someone who's either a minority or a woman," Frank added. "And what troubled me is the question of LGBT people was just kind of swept out. I've never asked for any appointment based on me being gay, but when they begin talk about the importance of diversity and leave us out, that troubles me."
While Cowan's appointment was hailed a milestone for diversity in terms of race because he's black, Frank said the lack of attention to being LGBT as a diversity factor suggests those involved with the decision were unaware of President Obama's inaugural address in which he mentioned the 1969 Stonewall riots in the same line as other iconic civil rights moments.
"It's almost as if some people didn't listen to the president when he said, 'Seneca, Stonewall and Selma,' and didn't hear the Stonewall part," Frank said.