San Francisco 49er Chris Culliver has released a statement regarding anti-gay remarks he made in a radio interview on Tuesday, ESPN reports: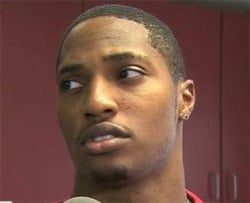 "The derogatory comments I made yesterday were a reflection of thoughts in my head, but they are not how I feel," he said in the statement. "It has taken me seeing them in print to realize that they are hurtful and ugly. Those discriminating feelings are truly not in my heart. Further, I apologize to those who I have hurt and offended, and I pledge to learn and grow from this experience."
Culliver planned to formally address his remarks at a news conference during the 49ers' media availability Thursday morning, according to his personal public relations representative, Theodore Palmer.
"Chris is very apologetic for any harm caused to anyone," Palmer told The Associated Press in a phone interview. "His intent was not that at all. He is one who celebrates the differences of others. All of this was just a big mistake. It was interpreted wrong."
EARLIER…
San Francisco 49er Chris Culliver: Gays Not Welcome in the Locker Room or the NFL – AUDIO