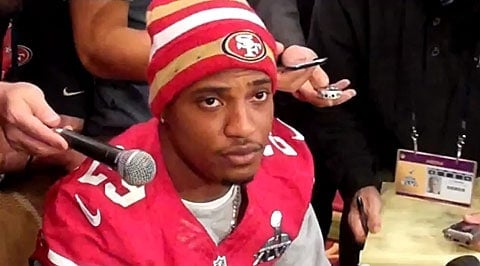 San Francisco 49er Chris Culliver faced members of the media this morning following outrage over remarks he made in an Artie Lange radio interview that a gay teammate would not be welcome on the 49ers or in the NFL, and a half-hearted apology that followed.
Asked how he is feeling, a sullen Culliver replied: "Just emotional, that's it…Apologetic."
Culliver was then asked what he was thinking when saying those things: "I was really just … not thinking. It was something that I thought, but definitely not something I feel in my heart."
Culliver said he had spoken with Coach Jim Harbaugh, who earlier said he "rejected" the player's remarks: "We talked privately… about the whole situation…just to learn and grow from it….like I said that's not what I feel in my heart, and he understands that."
Culliver was then asked if he would welcome a gay player, and gave this response: "If it is … it is…everybody's treated equally in the locker room."
He said that he had not addressed his remarks with the team: "I'm not trying to bring anything trashy to the team."
Watch, AFTER THE JUMP…
UPDATE: Culliver also talked with SI, and says he has gay relatives:
"It's been very difficult because I'm a little disappointed," said Culliver of the past 24 hours or so. "(People think) that I don't like homosexuals and I don't support gay communities and things like that, which I do. I have gay relatives who I talk to, not on a daily basis, but I do and I support them."
Culliver's teammate, Donte Whitner, said that he had a brief talk with Culliver to tell him what to expect at Thursday's media availability. Whitner also said that "I guarantee (Culliver) has learned his lesson now."
While the 49ers have distanced themselves from the remarks, there has been no reaction from the NFL, which, at this point means they condone Culliver's homophobia.
Earlier updates…
It's Time for the NFL to Do Something About Homophobia: VIDEO
Signorile: NFL Must Suspend Chris Culliver for Anti-Gay Remarks [tr]
Outed Former SF 49er Kwame Harris Denounces Culliver's Anti-Gay Remarks [tr]
SF 49er Chris Culliver on Anti-Gay Remarks: 'I Apologize to Those I Have Offended' [tr]
SF 49er Chris Culliver: Gays Not Welcome in the Locker Room or the NFL – AUDIO [tr]