Kwame Harris, a former offensive tackle for the San Francisco 49ers and Oakland Raiders, was scheduled to appear in court today on charges he attacked his ex-boyfriend in a dispute over soy sauce and underwear, the Daily Journal reports: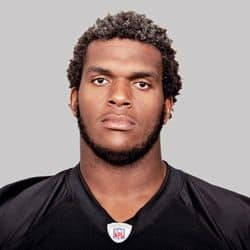 Harris, 30, is charged with felony counts of domestic violence causing great bodily injury and assault with force likely to produce great bodily injury in the Aug. 21, 2012 incident. He has pleaded not guilty but was held to answer after a preliminary hearing last fall. He is due back in court today for a pretrial conference to either settle the case or confirm a jury trial hearing.
The man, Dimitri Geier, is also suing Harris civilly for assault, battery, false imprisonment, negligence and both intentional and negligent infliction of emotional distress.
Harris and Geier were no longer involved when the fight took place, according to Harris' attorney:
Harris was to drive Geier to San Francisco International Airport but instead became upset when he poured soy sauce on a plate of rice, according to the suit filed in San Mateo County Superior Court. The men argued for approximately seven minutes and Harris said he would no longer take Geier to the airport, the suit states.
As the men left to remove Geier's belongings from Harris' car so that he could instead take a cab, Harris tried pulling the other man's pants down and accused him of stealing his underwear, according to the suit.  Geier unsuccessfully tried pushing Harris away but the bigger man shook him violently and punched him in the arms, the suit states.
Harris was arrested at his home following the fight, which sent Geier to the ER.
Harris' attorney says his client was acting in self-defense and claims Geier's suit is an attempt at extortion.
Harris has never publicly said he is gay.